8mm-16mm to Digital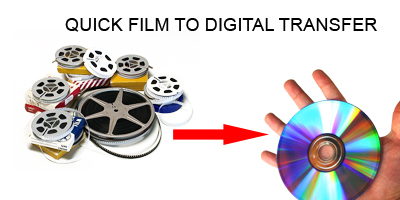 Bring memories alive again. PME offers quick film to digital transfer of 8mm, Super8mm, and 16mm film to a range of modern formats. Our process includes cleaning, polishing and lubricating your film. Steps that many of our competitors do not undertake. Our prices are competitive and as usual we guarantee our work. When you need 8mm-16mm to digital conversion service, try PME.
Our standard process includes
Cleaning
Lubrication
Polishing
Repairs to ripped film
Leader when needed
Our client base for film transfer stretches the entire length of our country from the Florida Everglades to the Texas Panhandle to the West Coast.
Please note a 50ft reel of film (4 minute runtime) produces a 900mb AVI or .mov file. A Data DVD holds 4.7 gig of data. For multiple reels we recommend an external hard disc.
3" diameter = 50 ft of film = 4 minutes runtime
5" diameter = 200 ft of film = 15 minutes runtime
7" diameter = 400 ft of film = 30 minutes runtime
15" diameter = 2000 - 2300 ft of film depending on hub size = 60-100 minutes runtime
How Film is Transferred
FILM ARRIVAL - Your package arrives, is opened and inspected for surface/material damage.  We then contact you via e-mail or phone (whichever you prefer) to let you know that your films arrived in good order!
CLEANING - Next, the film is cleaned.  Each film is placed on a manually controlled editor and cleaned by hand to remove foreign particles, finger prints and grime. This also allows us to further inspect your films for breaks or worn splicing which we will repair prior to transfer.  We only use a mild cleaning agent that will not harm your films.  It will remove surface dirt and add an anti-static quality to the film that helps retard dust and other particles from settling back on the film. 
SCRATCH REMOVAL - Many films have annoying scratches that detract from the quality of the film as well the viewing experience.  Our film transfers include treatment by a scratch remover that also provides a second cleaning and an anti-static coating.  The scratch removal process fills in the scratches, similar to the wet gate process used to digitize major motion pictures.  The reduction in scratches is dramatic.  Heavily scratched films will appear only lightly scratched.  Light scratches will disappear. 
THE TRANSFER - Your films are captured with an HD camera using a combination of optical and digital technology to produce the highest quality, sharpest and most vibrant picture.  The gate which displays the frames of film is specially designed to accurately display the largest possible proportion of the frame, more than most projectors.  What does this do for your films?  It allows you to have essentaily the entire frame of film captured instead of some services which end up cropping your frame down due to smaller gate size. If you choose our Basic Transfer package, we convert the captured files to a DVD MPEG format.  The MPEG format allows convenient television viewing through your DVD player.  (We can also copy your files to MiniDV or VHS.)
The Custom Editing and Authoring Process
 
CAPTURED FILES - The files captured in the transfer are the first generation digital master of your film.  It is the un-edited, uncompressed file from which we can do any number of things.  Because these files use a standard DV codec and are not compressed, they are excellent for editing, exporting to DVD (file in AVI format), MiniDV or DVD authoring.  Whether you choose DIY editing or have us author your movies, we highly recommend that you order a "virgin" master of your movies.
DVD AUTHORING and MUSIC - After your film is captured, before we do any authoring, we mail a DVD REVIEW copy of your film to you for viewing.  Only after discussing your wants and desires will we begin the process of authoring your DVD.
Once we understand your special requirements, PME will take your transferred film, adding music, text, chapter menus, graphics, animated backgrounds, narration etc.  We do everything custom in our authoring process.  No two productions are the same.  We custom build music to fit the time and mood of your film.  Because custom authoring is our specialty we have a large library of digital tools that enable us to produce Hollywood quality productions of your home movies.  PME is proud to say nowhere else will you find a more professional production of your home movies. 
Please note our customized DVD authors can easily take several months to complete.  We take time to give your product the care and attention that you would want it to have.  If you are in a hurry and need a full DVD authoring, you should consider a rapid turnaround studio.
FINISHED PRODUCT - Upon DVD completion, we can take photos from your film and custom design a professional full color DVD case.  We return all your original materials with your newly produced DVD.  We maintain master files of your production for about a month, allowing us to contact you and make sure everything was in good condition when it arrived, and that you will not require any additional copies.  Once we know you have everything in good order, the files are removed.  We guarantee all of our work to your satisfaction.
Do-It-Yourself Editing
DIY EDITING - For customers who desire to do their own editing or just want a first generation master copy, we can provide the digital files on DVD in AVI format or exported to MiniDV.