Photo and Slide Scanning
Posted on:

7 May 2013

By:

monkeydna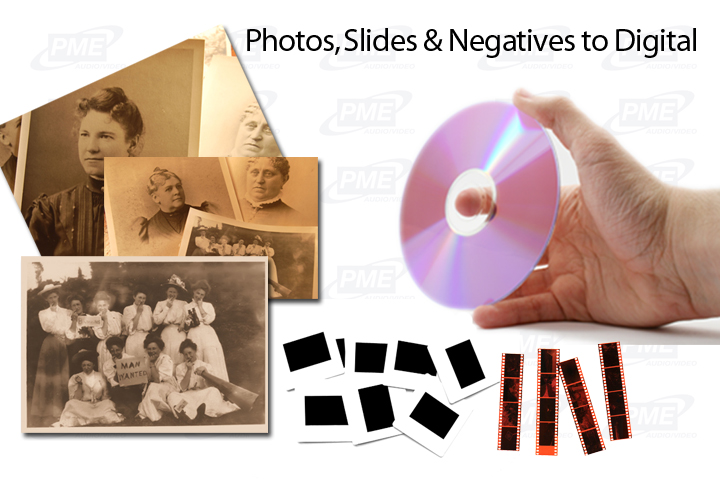 How important is it to YOU to move your family history forward?
Here at PME, we cannot stress the importance of organizing, securing, and saving old photos; film, video and audiotape of loved ones past and present. The time to start is now. With each day passing, the past gets further behind and the memories a little bit cloudier.  Yes you can probably do it at home on your personal computer. That's if you have the time and the resources. PME not only has the time and resources but we also have the expertise needed to get the job done and done right the first time. There are many issues that must be considered before attempting to digitize your memories for future generations. Call PME for a FREE CONSULTATION. You don't have to choose us, but you'll be glad you talked to us first. 760-439-0281 or email us at solutions@pmevideo.com
PME offers the highest scanning resolution for slides and negatives at 4000 dpi and a standard 800 dpi for photos using state of the art professional scanners.
Supported Formats for Mounted Slides and Large Format Positives: 
• 110 • 120 • 126 • 127 • 127 SuperSlide • 35mm • Coming Soon-3D Stereoscopy
Photographic memories are a wonderful thing; however there is no doubt that photography has moved on so much in the last 30-40 years. 
How many 35mm Slides, 35mm Negatives and Photographs do you, or your parents have stored in your house?
They are fantastic to have, but they can be difficult to view when the mood takes you. When was the last time you hauled the 35mm slide projector from the loft and enjoyed your images?
Our slide and negative scanning service will enable you to view your 35mm slides and 35mm negative images at the touch of a button. After we have scanned your slides we give you a CD free of charge for use on a PC. We can also produce DVD slideshows that you can watch in high quality on your TV. We can even place your slideshow to music
Amazingly we are also now able to supply you with a Digital Photo Frame which can display your images as a slideshow. We supply you with memory card containing your images (as well) as your CD and you pop it in and off you go! 
Is there really a better gift for an elderly relative or even a 30th birthday present for your grown up child?
PME even offers a Gift Voucher Service that is ground breaking in our industry.  
Our current turnaround is 10-14 days.
Consider having your 35mm Slide Collection scanned as a gift. The gift that keeps on giving!
Contact us — solutions@pmevideo.com for packaging tips and recommendations. 760-439-0281